Life's easy
SMART PRECISION COOKER C300
Finding the perfect gift for someone who feels overwhelmed in the kitchen can be tricky. But, with Life's Easy C300 Smart Temperature Control Cooker integrated with the Cooking App and the innovative One-Click Cooking feature, you've discovered the best solution! MAKE YOUR LIFE EASIER!
EASY TO HANDLE VARIOUS DISHED
WITH A SINGLE DEVICE THAT CAN STEAM, FRY, SUATÉ, MAKE SOUP, GRILL, SERVE AS A HOT POT, SLOW COOK, PRODUCE YOGURT, AND COOK RICE. IT'S YOUR MOST VERSATILE KITCHEN AIDE.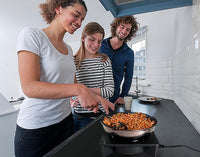 USER-FRIENDLY EXPERIENCE
ONE-CLICK COOKING HEIP YOU MAKE
DELICIOUS MEALS EFFORTLESSLY.